Wide angle 28 mm M-lenses are less commonly used with rangefinder Leica M-cameras since they fill out the whole viewfinder frame window leaving very little space between frame lines and viewfinder border. But the 28 mm full-frame field of view can provide an advantage over the bit longer and more standard 35 mm focal length. Faster 28 mm wide angle lenses with the Leica brand name are very expensive, but Leica 28 mm f/2.8 lenses exist in a wider variety and are most often more than sufficient regarding depth of field and sharpness. It takes some effort to gig through available Leica 28/2.8 lens versions and figuring out pros and cons of each and how newer lens versions improved over older ones. The newer Leica 28/2.8 Elmarit-M versions are aspherically corrected ones and are named ASPH lenses. They ensure optimized sharpness with lower refractions towards the corners of the frame, are more compact but also the most pricey ones. From experience I prefer a bit more vintage M-lenses which Leica made in the 80s and 90s - they often have a unique rendering and still give excellent sharpness with digital M-camera sensors. Benefit with these kind of lenses is a much better price/quality ratio when getting a decent deal for a mint looking used lens copy. I was lucky years ago getting the Leica 25/2.0 Summicron-M version IV pre-ASPH lens made in 1991 (also nicknamed bokeh-king) which is a joy to use. Recently I found a great copy of a Leica 28/2.8 Elmarit-M version IV pre-ASPH lens made in 1996 for a decent deal. It's not a collector lens, but I read that it has become difficult at this point to find good copies of this specific lens version also including the unique hood Leica sold in combination with this lens version. Prices for this lens range around $1800-1900 depending on condition and accessories like lens hood, lens pouch and original box, and I bargained it down for a bit less than this (my copy did not come with original lens pouch and box but with the original hood and caps). I expect the value of this lens to increase in years to come since the market is already thinned out to find this lens version easily.
The Leica 28/2.8 Elmarit-M version IV lens is barely mentioned in online reviews - most reviews focus on its direct Leica ASPH successor lens version instead which is better known. This lens was focused to be used on Leica M film cameras which was also the usage of the first owner who sold me the lens. I instantly tested this lens on my digital Leica M-E 240 camera, and I can already tell upfront that it falls nothing short of being perfect with the digital sensor, too. There is no corner unsharpness, severe vignetting, nor color aberration seen wide open at f/2.8 which can potentially be an issue with older wide angle rangefinder lenses. This lens has its maximum of sharpness at f/4.0 and keeps it the same at smaller apertures. Smaller aperture only changes the depth of field but doesn't improve sharpness! Typical for a Leica Elmarit-M lens, it provides excellent contrast already at f/2.8.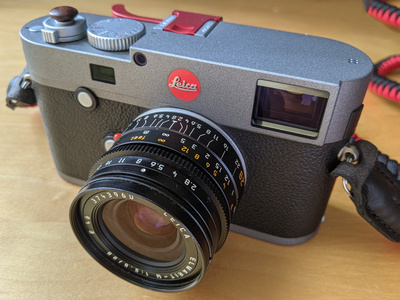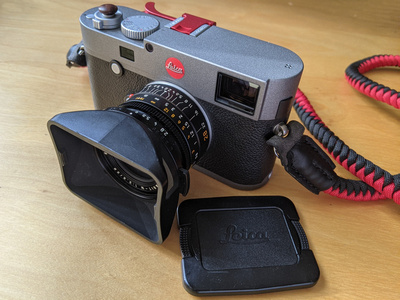 Left: Leica 28/2.8 Elmarit-M E46 lens version IV without hood attached to Leica M-E 240 camera; Right: Lens with lens hood and lens cap

I also have the smaller but also very good Cosina-Voigtlander 28/2.0 Ultron ASPH M-mount lens version I which is more modern than this Leica 28/2.8 lens. I bought this lens several years ago for $450 used in mint condition. The Voigtlandner lens is a stop faster but has approximately the same lens size and also 46 mm filter diameter. Wide open it shows more vignetting and lower contrast than this 28 mm Elmarit-M lens at f/2.8. Stopped down, the Voigtlander lens performance is then very similar in quality, but differences in the image background blur remain.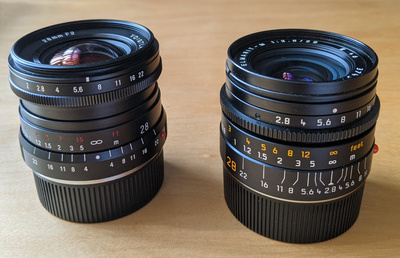 Left: Cosina-Voigtlander 28/2.0 Ultron-M lens version I; Right: Leica 28/2.8 Elmarit-M E46 lens version IV. Both lenses have about the same size. The Voigtlander lens has a protruded convex front lens element. Both lenses have 46 mm filter diameter size and weigh the same (253 grams without hood).
The 28/2.8 Elmarit-M E46 lens comes only in anoidized black finish. No chrome version exists to my knowledge. This lens is described as being as good as the 28/2.0 Summicron ASPH version I which makes the Elmarit an excellent bargain. The MFT carts of both Leica lenses look very similar in performance just that the Summicron version is obviously one stop faster at f/2.0 than the Elmarit. The lens I describe in this review is also called Leica 28/2.8 E46 lens due to its version-specific lens diameter size of 46 mm. It originally comes with the fitting Leica lens shade #12547 including the clip-on Leica cap #14013 (made of thick rigid plastic!). Both - lens hood and shade together - go now online for about $200. This plastic cap sits well on the hood and doesn't fall easily off like other Leica lens hood caps tend to do - for example the flimsy one on the earlier mentioned Leica 35/2.0 Summicron-M version IV lens hood which I nearly lost twice. The lens shade/hood of the 28/2.8 clamps with click on the outside of the M-lens easily and sits tightly. It has an opening in the upper corner allowing to look through when composing through the viewfinder of a Leica M rangefinder camera. Even this hood appears bulky on my first impression, I got very quickly used to it. There is still some lower right corner blockage of the viewfinder from the front of the lens but practically I didn't see it as a problem when composing my 28 mm shots. I always have used this lens with its hood attached and have never observed any kind of flare issue so far.
The aperture ring is a riffled full ring and has click-stops. Apertures range from f/2.8 to f/22 in half stops. When moving this ring, the finger can easily hit the attached rim of the attached lens hood - there is not much distance between them. Focus ring comes with standard Leica focus tab ranging from 0.7 meters to infinity focus. Scale is both in meter (white color) and feet (yellow color). The focus ring moves below the 0.7 meter mark with its hard end stop which is important to remember since it might offset the minimum distance focusing with the rangefinder patch focus. There is a hard stop set correctly at infinity. Make sure to have it set at the 0.7 meter mark and not below for minimum focus distance with rangefinder focusing - not an issue with LiveView or EVF attached on digital M cameras.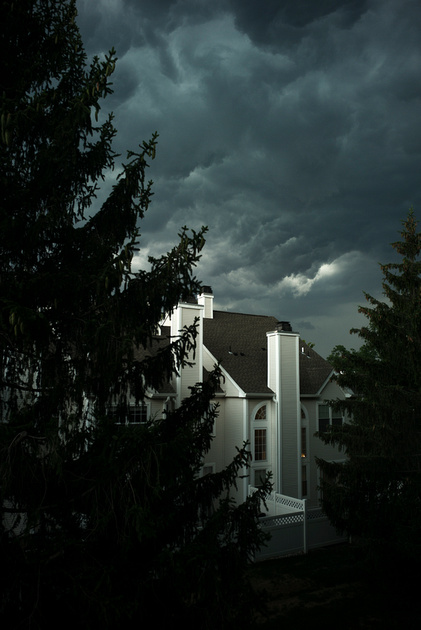 Both photos taken with Leica 28/2.8 Elmarit-M version IV lens at f/8.0. The left handheld at 1/45 sec (ISO 400), the right photo with tripod camera support at 1 sec (ISO 200).

Fireworks photos taken with Leica 28/2.8 Elmarit-M version IV lens at f/8.0 and 2 sec exposure time at ISO 200.

Holmdel Horn antenna (left, f/8.0) and sunset (right, f/4.0) taken with Leica 28/2.8 Elmarit-M version IV lens.

A direct comparison of Cosina-Voigtlander 28/2.0 Ultron and the Leica 28/2.8 Elmarit version IV lenses is shown in the photos below. Both photos were taken with camera mounted on tripod at f/8.0 and with circular polarizer in the same position. Sharpness and contrast-wise, both lenses perform exactly the same. But the Leica 28/2.8 Elmarit lens is a tiny bit wider on its wide end compared to the Voigtlander 28/2.0 Ultron. It is visible in the position of the end of the tree branch in the upper left corner of the frame. The Leica lens hood does not fit well over the third party circular polarizer 46 mm filter - I attached it loosely on the filter to give at least the flare protection without sacrificing image quality. No problem with this filter on the CV 28/2.0 Ultron lens - the thin screw-in lens hood fitted around it perfectly.
Top: Photo taken with Leica 28/2.8 Elmarit-M version IV lens and circular polarizer at f/8.0, ISO 400

Top: Photo taken with Cosina-Voigtlander 28/2.0 Ultron Version I M-lens and circular polarizer at f/8.0, ISO 400

Pros:
+ Price/quality ratio (bit of hidden gem in Leica's lens line)
+ Very well built, rigid feel
+ Contrast and sharpness already wide open at f/2.8
+ No flare issues
+ Well sitting lens hood and hood cap
+ Forms beautiful 8-blade sun stars
Cons:
- Less compact than other Leica 28/2.8 lens versions
- Larger protruding lens hood
- Tiny space between aperture ring and attached lens hood
- No hard stop at minimum focus distance of 0.7 meters
- Lens hood does not fit well over third party 46 mm filters
- Hard to find as used lens currently